The chemists working in the Polymer Additives Laboratories at PCC Chemax offer technical support in addressing additive challenges in addition to introducing new materials that include antistats, antifogs, lubricants, pigment dispersants, and slip agents. This department is well versed in a variety of polymers including PET, PE, PU, LLDPE, LDPE, HDPE, and PP.
We have the capability to compound multiple polymers for testing using a C. W. Brabender Intelli-Torque Plasti-Corder that can produce strand, and both four and six inch film. Tests performed here include Static Decay, Surface Resistivity, Hot and Cold Fog Testing, and Coefficient of Friction.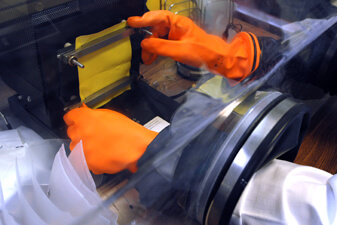 A humidity controlled glove box allows for the testing of materials under a variety of atmospheric conditions. Additionally, we routinely perform extraction studies with analysis and determination of loading for our customers. Please contact us with any questions, and we will be happy to assist you in finding the right product for your specific needs.